Jake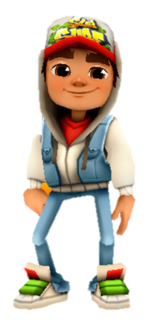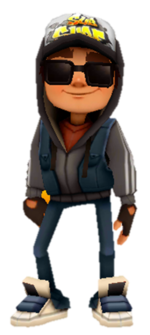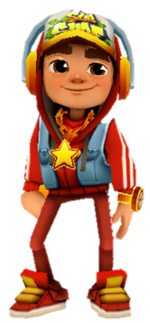 | Cost in coins | Cost of the Dark outfit | Cost of the Star outfit | Availability |
| --- | --- | --- | --- |
| 0 | Free | 150 aerosol cans | Permanent, it is the character that is by default in the game. |
about this surfer
Jake is the first character unlocked and the main one in the game, he appears in the game icon.

His appearance is that of a graffiti artist, with a white and red cap, with the words Sub Surf, a light blue jacket, a white sweatshirt and a red shirt. He wears light blue pants and white tennis shoes with red and green.





In his Dark suit he wears the same clothing but with the difference that now his sweatshirt is black, his vest and pants are dark blue, he brings black glasses and gloves and his shoes are now white with blue and black.

While in the Star suit his sweatshirt and pants are red, his shoes are red with gold, he wears silver with gold headphones, a gold watch on his left hand and a gold necklace with a star on the neck.
Trivia
He appears, along with Tricky, on the main screen of the game.
Along with Dino, they are the only characters in the game that can be unlocked for free.
He is one of the few characters in the game, along with Tricky and Fresh, who has his counterpart available for a limited time: Zombie Jake.
More characters
Jake · Tricky · Fresh · Spike · Yutani · Dino · Frank · Ella · King · Lucy · Ninja · Tagbot · Tasha · Zoe · Brody · Prince K · Zombie Jake · Elf Tricky · Tony · Carmen · Roberto · Kim · Harumi · Nick · Coco · Sun · Alex · Eddy · Jamie · Jay · Mina · Rosa · Olivia · Edison · Wayne · Jasmine · Noon · Buddy · Rex · Izzy · Amira · Marco · Nikos · Zuri · Mike · Jenny · Jaro · Aina · Carlos · Jia · Bjarki · Ramona · Lauren · Malik · Jolien · Philip · Freya · Salma · Lee · Diego · Manny · Nicolai · E.Z. · Sofia · Dylan · Boombot · Nina · Brandon · Scarlett · Alicia · Miss Maia · Rabbot · Hugo · Rin · Ace · Kareem · Mei · Mimi · Maeko · Alba · Amy · Festive Fresh · Monkbot · Liu · Ming · Callum · Jack · Dak · Lamar · Tom · Odell · Patrick · Saquon · Tankbot · Cathy · Noel · Morgan · Andy · Festive Jake · Festive Tricky · Festive Spike · Festive Frank · Festive Yutani · Frankette · Spacebot · Ox · Rat · Qin · Hou · Zayn · Darryl · Lana · Bonnie · Buzz · Trym · Pridebot · Pride Jake · Pride Fresh · Pride Spike · Pride Tricky · Pride Frank · Pride Yutani · Alexandre · Parkour Rin · Akira · Koral · Cleo · Taha
Wikia Subway Surfers
Characters Tables Objects Quests World Tour