World Tour: Beijing 2020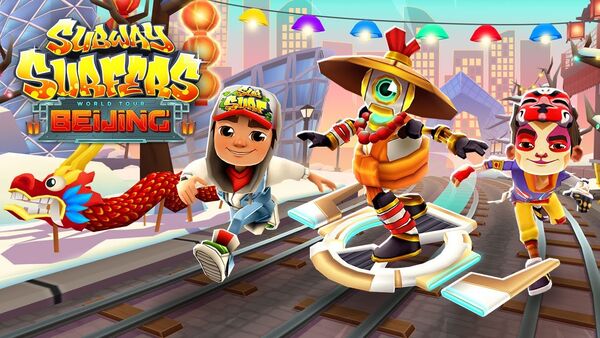 | Date | Place where it is located |
| --- | --- |
| 23 January 2020 | Beijing, China |
| World Tour Anterior | Next World Tour |
| Chicago 2020 | Paris 2020 |
Info
Subway Surfers World Tour: Beijing 2020 (Beijing in English) is an edition for the game. This edition brought two new outfits for two characters, the Rogue Outfit for Sun and the Lunar Outfit for Rin.

Also, 3 new characters were launched, which came from the Chinese version that are, Monkbot, Liu and Ming.





Also, two new boards were released: Scroll and Aero, which are also originally from the Chinese version of the game.
Trivia
This was the last edition with Kiloo.
This update celebrates the 2020 Chinese Lunar New Year.
More World Tour
2012
Halloween Christmas
2013
New York · Rio · Rome · Sydney · Tokyo · Miami · Paris · Beijing · Moscow · New Orleans · London
2014
Bombay · Miami · Seoul · New York · Mexico City · Rome · Vancouver · Tokyo · Sao Paulo · Paris · Los Angeles · Beijing · Cairo · New Orleans · Bangkok · London
2015
Las Vegas · Seoul · Hawaii · Mumbai · Paris · Arabia · Los Angeles · Venice · Rio · Sydney · Greece · New York · Kenya · Transylvania · Tokyo · North Pole
2016
Hawaii · San Francisco · Arabia · Prague · Madagascar · Sydney · Peru · Las Vegas · Singapore 2016 · Venice · Rio 2016 · Iceland · Havana · Transylvania · Washington DC · Winter Holiday
2017
Amsterdam · San Francisco · Arabia · Bangkok · Monaco · Hawaii · Copenhagen · Peru · Morocco · Shanghai · Miami · Barcelona · Singapore · Mexico · Washington DC · Saint Petersburg
2018
Cairo · Chicago · Paris · Tokyo · Iceland · Buenos Aires · Monaco · Venice Beach · Mumbai · Havana · New York · Berlin · Hong Kong · New Orleans · Morocco · London
2019
Rio · Atlanta · Venice (Venice) · San Francisco · Zurich · Bangkok · Seoul (Seoul) · Dubai · Miami · Bali · Barcelona · Moscow (Moscow) · Singapore · Mexico · Houston · Winter Holiday
2020
Chicago · · Paris (Paris) · Cairo · Iceland (Iceland) · Buenos Aires · Marrakech · Amsterdam 2020 · Zurich · Edinburgh · Little Rock · Bali · Miami · Peru · Cambridge · Seattle ·
2021
· · · · · · · · · · · ·
-
Wikia Subway Surfers
Characters Tables Objects Quests World Tour
More World Tour 2012 Halloween · Christmas 2013 New York · Rio · Rome · Sydney · Tokyo · Miami · Paris · Beijing · Moscow · New Orleans · London 2014 Bombay · Miami · Seoul · New York · Mexico City · Rome · Vancouver · Tokyo St. Paul · Paris · Los Angeles · Beijing · Cairo · New Orleans · Bangkok · London 2015 Las Vegas · Seoul · Hawaii · Mumbai · Paris · Arabia · Los Angeles · Venice · Rio · Sydney · Greece · New York · Kenya · Transylvania · Tokyo · North Pole 2016 Hawaii · San Francisco · Arabia · Prague · Madagascar · Sydney · Peru · Las Vegas · Singapore 2016 · Venice · Rio 2016 · Iceland · Havana · Transylvania · Washington DC · Winter Holiday 2017 Amsterdam · San Francisco Arabia · Bangkok · Monaco · Hawaii · Copenhagen · Peru · Morocco · Shanghai · Miami · Barcelona · Singapore · Mexico · Washington DC · Saint Petersburg 2018 Cairo · Chicago · Paris · Tokyo · Iceland · Buenos Aires · Monaco · Venice Beach Mumbai Havana New York Berlin Hong Kong New Orleans Morocco London 2019 Rio Atlanta Venice San Francisco Zurich Bangkok Seoul (Seoul) Dubai Miami Bali Barcelona Moscow (Moscow) Singapore Mexico Houston Winter Holiday 2020 Chicago

· Paris (Paris) · Cairo · Iceland (Iceland) · Buenos Aires · Marrakech · Amsterdam 2020 · Zurich · Edinburgh · Little Rock · Bali · Miami · Peru · Cambridge · Seattle ·

2021

·

·

·

·

·

·

·

·

·

·

·

·

-